Welcome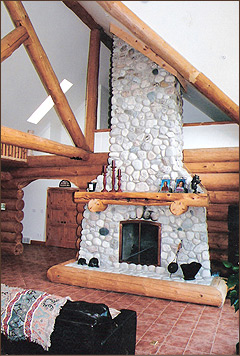 Located in historic St. Jacob's, Ontario, Pioneer Log Homes has been a quality custom log home builder for over 28 years. Clients across Southern Ontario and Central Ontario turn to the specialists at Pioneer Log homes to build the custom log home of their dreams. Pioneer Log Homes will build an exceptional log home at their St. Jacob's location, and transport it to your lot for completion. With a dedication to true customer satisfaction that is virtually unmatched in the industry, Pioneer Log Homes is the premier log home builder for clients in Kitchener, Waterloo, Muskoka and cottage country throughout Canada and the United States.
Pioneer Log Homes is ready to build your dream log home whether you have your own design in mind, or need guidance from an expert design team. Experience with log homes ranging in size from 100 square feet up to 7,000 square feet means that no log home is too big or too small for Pioneer Log Homes to handle. This log home builder has the skill, talent and professionalism to assemble a custom log home on even the smallest of islands with the quality craftsmanship clients from across Southern and Central Ontario have come to expect from none other than Pioneer Log Homes.
Log home restoration is another of Pioneer Log Homes' specialties. Log homes that need re-staining or re-facing will look as good as new under the care and precision of this team. We stand by our product, and log home restoration conducted by this reputable, highly regarded log home builder ensures that clients remain 100% satisfied with their log home.
If a log home is in your future, look no further than the trusted local log home builder with over 28 years experience. Pioneer Log Homes is synonymous with quality and customer satisfaction – build your next custom log home with Pioneer Log Homes and see the results for yourself! Contact Pioneer Log Homes.